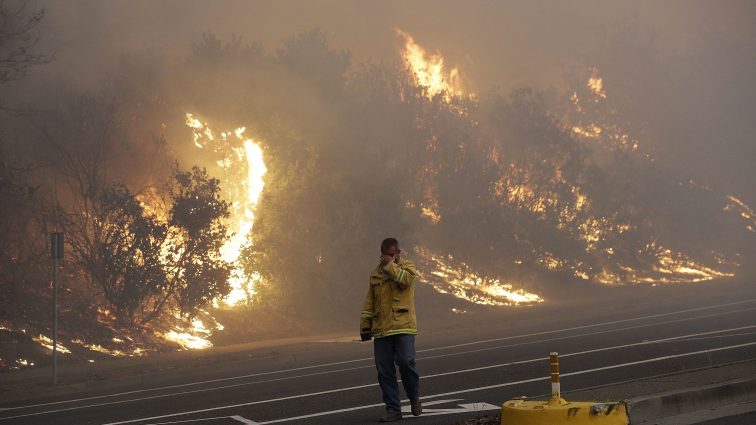 The devastation from the wildfires in California is just starting to become evident. 11 deaths have been reported so far happened in Sonoma County, while others were reported in Napa and Mendocino counties.  More than 80-thousand acres have burned in Northern California, and 15-hundred homes and commercial structures have been damaged.
Overnight significant winds fanned over a dozen fires across Northern California. 15 wildfires in nine counties have already burned over 73,000 acres. Firefighters have been challenged with winds gusting in excess of 50mph causing extreme rates of spread and volatile burning conditions. The focus continues to be the evacuations of thousands of residents and protecting property.
As of late last night, the Hilton Sonoma Wine Country, the Fountaingrove Inn, the historic Fountaingrove Round Barn and the buildings at Paradise Ridge Winery were just some of the local landmarks destroyed. Willi's Wine Bar and Cricklewood restaurant on Old Redwood Highway both burned down, and fire destroyed the east end and classrooms at the Luther Burbank Center for the Arts.
People in the Larkfield area north of Santa Rosa are being warned tap water may not be drinkable for days. Yesterday officials from the company that supplies water to about two-thousand-500 homes and businesses said water may not be confirmed drinkable until tomorrow at the earliest. The Tubbs fire has damaged storage tanks and a pumping station, and crews are shutting off running water to damaged homes to provide more water for firefighters.
If you are not an employee of the Sheriff's Office and work in either the County Center or the Chanate Complex, do not report to your office on Tuesday morning. Instead, please contact your supervisor to determine whether an alternative work site or emergency response task has been assigned to you. If you do work for the Sheriff's Office, plan on reporting to work as scheduled. If you work in a building that is not under an evacuation notice, report to work if it is safe for you to do so. If you are unable to reach your office, please let your supervisor know so we can make sure all employees are accounted for.
There is NO school for ALL of Sonoma County Schools
Santa Rosa Public Information Line: 707-543-4511. Please do not call 9-1-1 unless you are reporting an active fire.
As a result of the raging fires in the area, the Glen Ellen Post Office at 13720 Arnold Drive 95442, and the Kenwood Post Office at 8930 Sonoma Hwy 95452 are inaccessible and closed temporarily. Customers are directed to go to the Sonoma Post Office at 617 Broadway, Sonoma, CA 95476 to pick up their mail. Customers must provide identification in order to get their mail.
Sonoma County Airport Flight Status
Evacuations have been ordered for the following neighborhoods:
Cross Creek Road
Porter Creek
Petrified Forest
Franz Valley and Mountain Home Ranch Rd
Sky Farm Drive
Saint Andrews Drive,
All residences north Fountaingrove Parkway
Montecito Heights
Kaiser Permanente Hospital and Sutter Hospital are being evacuated
The Hopper Avenue Area West of Coffey Lane
All residences east of Fulton Road, between Piner Road and Guerneville Road
West of 101 in the Piner Road area to downtown Forestville
Cloverdale KOA
Palomino Road, all directions
Vanoni Road to Gill Creek Road, all directions
Arnold Drive to the State Hospital and west of Jack London State Park
Kaiser Permanente Hospital and Sutter Hospital are being evacuated
Rincon Valley (all areas north of Montecito Blvd from Brush Creek Rd. to the eastern city limits)
All of the Oakmont area (east of Melita Rd.)
The City of Sonoma released an announcement early Monday afternoon recommending a voluntary evacuation for the downtown area of Sonoma – from Napa Street to north of the city limits.
Wall Road north of Trinity Road is under mandatory evacuation.
Road Closures:
SR-12 at Warm Springs
SR-12 at Arnold
SR-12 at Watmaugh
SR-128 at Petrified Forest
SR-128 at Tubbs
Pressley Road from Rohnert Park to Bennett Valley
SR-121, south of Old Sonoma Road
SR-37 is closed from US-101 to I-80
SR-121 at Ramal
8TH at Napa
Arnold at SR-12
SR-121 at Duhig
SR-12 at SR-29
SR-121 at Sonoma County Line
Lakeville Highway (traffic is being diverted to US-101)
Westbound SR-37 AT SR-121 (traffic is being diverted to I-80)
Eastbound SR-37 at Lakeville (traffic is being diverted to US-101 towards Lakeville)
Westbound SR- 37 at Sears Point
Southbound US- 101 at Airport Road and Northbound US-101 at Bicentennial
SR-128 @ Tubbs/ Cuttings Wharf at Las Amigas
SR-12 at Watmaugh
SR-12 at Duhig
Monticello at Vichy
MISSING PEOPLE:
Urgent Medical Services:
Lomi Psychotherapy Clinic 534 Bst Santa Rosa 707-579-0465×227

The following Santa Rosa Community Health campuses are open Tuesday, October 10, to support non-emergency, urgent medical needs for the Santa Rosa community and our existing patients:

Brookwood Campus, 983 Sonoma Avenue, 583.8700

 Those needing care are encouraged to call in advance, as we will have nurses standing by to take calls and many medical needs can be met over the phone during this time. Patients with appointments should call in advance to see if their needs can be met by phone or if appointments can or should be rescheduled.
VOLUNTEERS NEEDED
Red Cross is in need of volunteers to assist fire evacuees at Elsie Allan High School and Cook Middle School immediately to assist with check-in and supply distribution and other activities as needed. Both schools are opening as emergency shelter locations. Red Cross has exhausted their volunteer pool and many additional hands are now needed during this emergency. Check in here: http://tinyurl.com/RedCrossVolOctober2017
Salvation Army looking for donations, food too.
Office for SR Santa Rosa Salvation Army 707 542 0981
Donations can be dropped off at 93 stony point circle
All Les Schwab locations are accepting donations