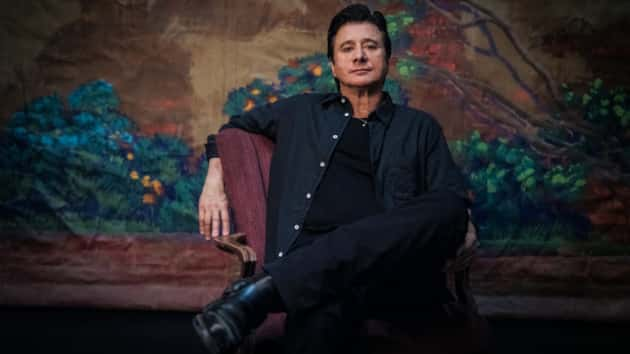 Credit: Myriam Santos
Credit: Myriam SantosEx-Journey singer Steve Perry has debuted a video for his new song "We're Still Here," from his 2018 comeback solo album, Traces.
While Perry already has released a series of in-studio performance videos for several Traces songs, including for "We're Still Here," the new clip is being labeled as his first official promo video as a solo artist since the clip for his 1994 tune "Missing You."
The new "We're Still Here" video features Perry lip-syncing to the tune while driving a vintage Chevy Chevelle around the streets of Hollywood at night. Reminiscing about his younger days, Steve watches various people out on the town, including a young couple on a date.
Another scene shows a group of well-dressed young men pass by a homeless man who is holding a sign that says "HUNGRY." When one of them drops his wallet, the vagrant picks it up and returns it to him.
As the video ends, Perry parks his car, gets out and looks up at a full moon.
In celebration of the video's premiere, Perry took part in a Facebook Q&A with fans on Friday.
In response to one question, Steve explains that the meaning of the song "runs through the whole video — which is that we have a deep camaraderie as people to each other." He adds, "From time to time, separateness happens, for many different reasons. But in us all, it's still there, and in that sense, we're still here."
Regarding his experience making the video, Perry said, "Driving that car around the streets of Hollywood reminded me of my earlier cruising days in the Central San Joaquin Valley. Those were magical times when you were driving up and down the street repeatedly with music blaring."
Copyright © 2019, ABC Radio. All rights reserved.