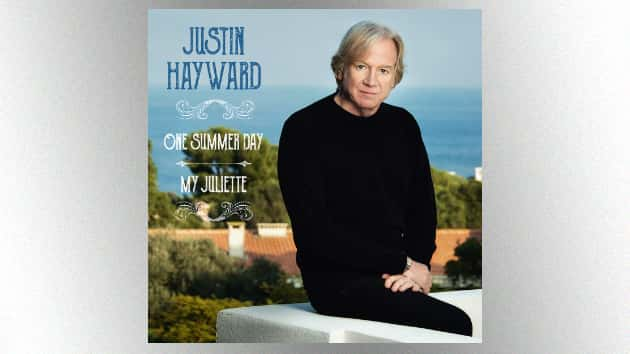 Eagle Rock Entertainment
Eagle Rock EntertainmentMoody Blues singer/guitarist Justin Hayward released a new digital-only EP today featuring two new original songs: "One Summer Day" and "My Juliette."
"One Summer Day" is a romantic tune that tells the story of a series of unexpected events that occurred during a single day in the summer.
"[It] just sprang out of my old Martin guitar late one evening," Hayward says the song. "I had been playing the riff for a while just for fun, without realizing it could actually be a song."
"My Juliette" was inspired by Justin's fascination with the theater as a child. When he was young, he played guitar for a repertory theater company for which his mother played piano, and he found himself drawn to various aspects of stage performance, including Shakespeare and pantomime.
"I was entranced and I still treasure every moment of that theater life," Hayward explains. "I had the song for years before I was sure I wanted to actually finish or record it because I enjoyed just playing around with it."
The tune also features a reference to South African singer Danny Williams' 1961 version of "Moon River," which was a #1 hit in the U.K.
Hayward recently announced the postponement of the 2020 On the Blue Cruise, which he had been slated to headline, as well as a series of U.S. concerts in April and May.
In a statement posted on his official website, Justin noted that the cruise's promoter was looking to reschedule the event for sometime in 2021. As for his stateside shows, he said, "As soon as we know rescheduled dates I will share them."
Hayward added, "I am desperately sorry for those individuals and families that are seriously impacted by the current situation and my heart goes out to them."
Copyright © 2020, ABC Audio. All rights reserved.