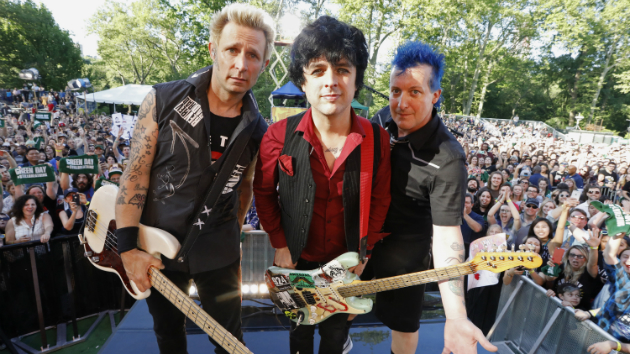 ABC/Heidi Gutman
ABC/Heidi GutmanGreen Day's Revolution Radio certainly takes a political tone, and album's latest single, its title track, is no different. Frontman Billie Joe Armstrong wrote the song "Revolution Radio" after seeing a Black Lives Matter protest in New York City.
"I think it just sort of planted a seed in my head about writing a song like ['Revolution Radio']," Armstrong tells ABC Radio.
With albums like Revolution Radio and 2004's American Idiot, Green Day has become known for their political lyrics.
"I tend to just write lyrics about how the world affects me and how the things that I read and the falsehoods and the truths, and trying to find something that makes some sense," Armstrong says. "So it's kinda just digging through the wreckage of our current political system to find the truth."
Even with the heavier subject matter, Armstrong feels that it's important that any political song he writes "also rocks."
"I think that's what separates us from a lot of band," Armstrong says. "Somehow, in all that sort of dark rhetoric…I think we somehow find a way to have some fun."
Green Day is currently touring Europe in support of Revolution Radio. They'll return to the U.S. in August.
Copyright © 2017, ABC Radio. All rights reserved.