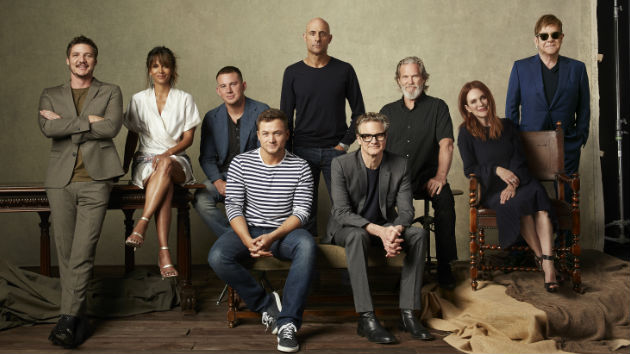 John Russo © 2017 Twentieth Century Fox FIlm Corp.
John Russo © 2017 Twentieth Century Fox FIlm Corp.Director Matthew Vaughn wanted to put Elton John in his movie 2014 Kingsman: The Secret Service but couldn't find a way to work him into the plot. But Vaughn did get Elton into the new sequel, Kingsman: The Golden Circle — and one of Elton's Oscar-winning co-stars gives his performance a big thumbs up.
In Golden Circle, in theaters today, Jeff Bridges plays Champagne, a member of the U.S. spy agency Statesman, the counterpart to the U.K.'s Kingsman spy agency. Elton plays himself, and Bridges tells ABC Radio of his part, "It's terrific, and it's not just a little cameo! I mean, this is a genuine role… he really, y'know, comes to the party all guns blazing. He's wonderful in the film."
In the film — SPOILER ALERT — Elton John has been kidnapped by the movie's villain, Poppy, played by Julianne Moore, and forced to perform private concerts for her every night. Of course, he's not happy about it, and is shown throwing several foul-mouthed temper tantrums. Eventually, he helps the good guys defeat Poppy, in a scene that makes use of one of his classic hits.
According to one review of the film, in one scene, one of the heroes asks Elton if he can get tickets to one of his shows. To which Elton replies, in typical fashion, "Darling, if you save the world, you can have a backstage pass!"
In addition to Jeff Bridges, Julianne Moore and Elton John, Kingsman: The Golden Circle also stars Channing Tatum, Halle Berry, Mark Strong, Colin Firth, and Taron Egerton.
Copyright © 2017, ABC Radio. All rights reserved.