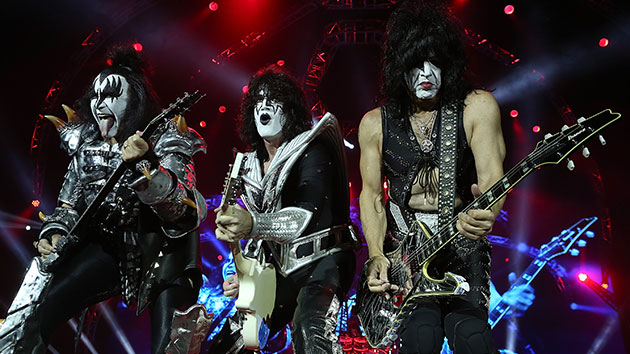 Paul Kane/Getty Images
Paul Kane/Getty ImagesThey didn't literally rock and roll all night, but it was still pretty special for KISS fans.
Billboard reports founding KISS members Gene Simmons and Ace Frehley performed together for the first time in 16 years Thursday night during a Hurricane Harvey benefit show at CHS Field in St. Paul, MN. They played four songs together: "Parasite," "Cold Gin," "Shock Me," and "Rock and Roll All Nite," inviting some audience members on stage for the latter tune.
Simmons and Frehley hadn't shared a stage since the finale of KISS' so-called Farewell Tour in Australia in April 2001. Even when the band was inducted into the Rock and Roll Hall of Fame in 2014, Frehley didn't perform with them.
As to how the reunion came about, Frehley told the Minneapolis StarTribune, "I just did four shows on the East Coast, and I looked at my calendar and I noticed I was off [Thursday]. I had to head back to San Diego eventually where I live, so I figured I could make a pit stop here. I called Gene, and he was really excited about me being involved, and it's that simple."
Frehley also said Gene paid a visit to his house recently, during which they wrote two songs together for an upcoming Simmons solo album.
Copyright © 2017, ABC Radio. All rights reserved.