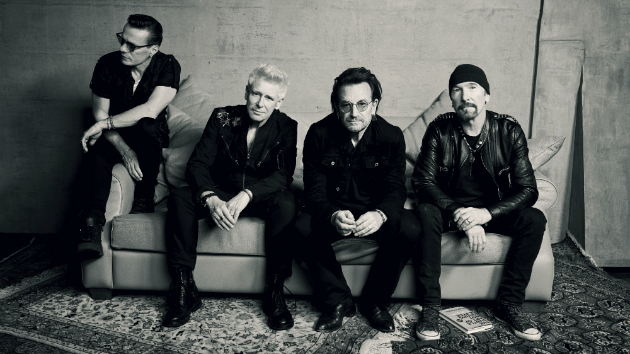 Credit: Olaf Heine
Credit: Olaf HeineA new short film featuring audio of U2's Bono reading excerpts from the liner notes for the band's new album, Songs of Experience, has debuted on the Irish rockers' official VEVO YouTube channel. Shot in black and white, the aptly titled Liner Notes was created by filmmaker and photographer Matt Mahurin in collaboration with producer Jacknife Lee, who apparently remixed parts of the new album's tracks for use in the nine-and-a-half-minute flick.
In the film, Bono is heard discussing things that inspired the new material, including a brush with mortality he experienced while making the record, the Syrian refugee crisis, the political upheaval in the U.S. tied in with the election of President Trump and the singer's desire to write a love song for his wife, Ali.
While Bono recites his musings on his health scare, a man is shown pulling a mask with the image of a skull on it over his face.
"Last winter, I was on the receiving end of a shock to the system…that left me clinging onto my own life like a raft," he declares. "Now lots of us have a brush with mortality at some stage…It's an arresting experience…I won't dwell in it or on it. I don't want to name it…I feel fantastic now, stronger than ever, but these songs have that impetus behind them and it would feel dishonest not to admit the turbulence I was feeling at the time of writing."
With regard to "You're the Best Thing About Me," Bono notes, amusingly, that he asked himself, "Could I write Ali a song, a love song, a song of exhortation, without inducing the projectile vomit that is sentimentality?" He adds, "Hmmm, maybe humility, if I could remember what that was, would help."
Copyright © 2018, ABC Radio. All rights reserved.