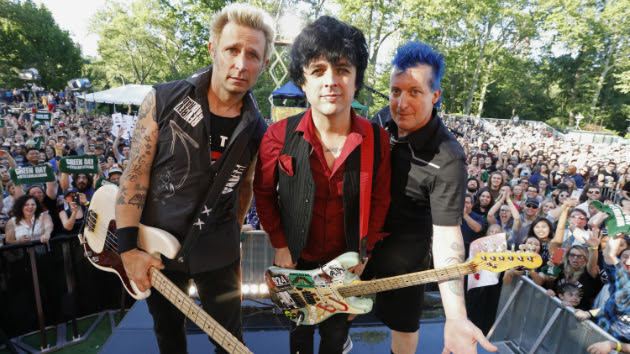 ABC/Heidi Gutman
ABC/Heidi GutmanEarlier this year, a group of British Green Day fans announced a plan to make the band's 2004 political anthem "American Idiot" the U.K.'s #1 single when President Donald Trump makes his state visit. Well, the week of the visit is finally upon us, and "American Idiot" has indeed started climbing the charts.
According to the U.K.'s Official Charts, "American Idiot" has re-entered the singles ranking at #18, and sits less than 4,000 copies away from the top 10.
The members of Green Day, as you might imagine, aren't Trump supporters. A few weeks after he was elected, the band chanted "No Trump, No KKK, No Fascist USA!" while performing their single "Bang Bang" at the 2016 American Music Awards.
Earlier this year, frontman Billie Joe Armstrong called for Trump's impeachment, and described him as "sick" and "unfit for office."
"American Idiot"'s biggest competition for the #1 spot is "Three Lions (Football's Coming Home)," a soccer-themed song by Baddiel, Skinner and Lightning Seeds that's been gaining traction now that England is playing in the World Cup semi-final.
Trump's visit to the U.K. begins this Thursday, July 12.
Copyright © 2018, ABC Radio. All rights reserved.