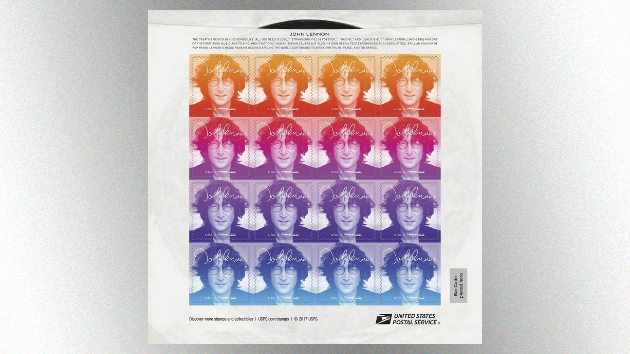 U.S. Postal Service
U.S. Postal ServiceThe United States Postal Service has announced plans to officially unveil a new stamp featuring the late John Lennon at a dedication ceremony held September 7 at 11 a.m. ET at the Namburg Bandshell in New York City's Central Park. The event will be officiated by U.S. Postmaster General Megan J. Brennan.
The Lennon stamp will be the latest installment of the U.S. Postal Service's Music Icons series of "Forever" stamps. It features a famous photo of the former Beatles star taken by renowned photographer Bob Gruen for the cover of John's 1974 solo album Walls and Bridges.
The stamp sheet, which features 16 postage stamps, is designed to resemble a 45-rpm single sleeve. The reverse side of the sheet will include a photo taken by Peter Fordham of Lennon sitting at his white piano, which was used to promote the rock icon's classic 1971 album, Imagine.
The front of the sheet also includes text about Lennon's life and career achievements. It reads: "The creative genius behind songs like 'All You Need Is Love,' 'Strawberry Fields Forever,' 'Imagine' and 'Jealous Guy,' John Lennon (1940-1980) was one of the first rock musicians to sing about not only humanitarian causes but also his own deeply felt experiences and insecurities. Still an anchor of pop radio, Lennon's music remains beloved around the world, continuing to speak for truth, peace and tolerance."
The ceremony will take place not far from the Dakota building, where Lennon lived at the time of his 1980 death with his wife, Yoko Ono, and son Sean. The event is free and open to the public.
Copyright © 2018, ABC Radio. All rights reserved.