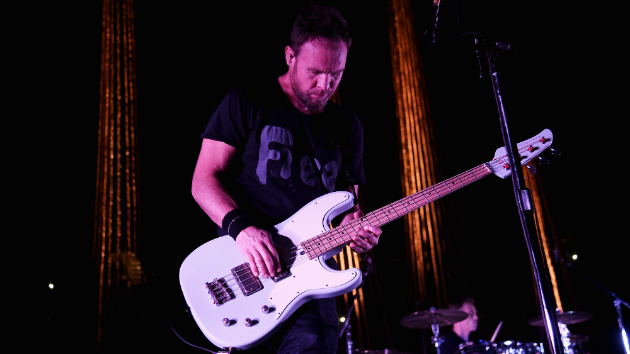 Kevin Mazur/Getty Images
Kevin Mazur/Getty ImagesThis Saturday, Seattle's Museum of Pop Culture is opening a Pearl Jam exhibit in honor of the band's just-launched U.S. stadium tour. In addition to various pieces of PJ history, including instruments, props, artwork and lyrics, the exhibit will pay homage to honor another Seattle music icon: late Mother Love Bone frontman Andrew Wood.
Inside the museum, you'll find a nearly eight-foot-high, bronze statue of Wood. According to Rolling Stone, Pearl Jam bassist Jeff Ament commissioned the monument himself. Ament, along with Pearl Jam guitarist Stone Gossard, played in Mother Love Bone alongside Wood.
"There's a lot of things that would be different not just for me, but for the entire Seattle musical community, had it not been for [Wood]," Ament says.
The statue itself has a bit of a fantastical side to it to represent Wood's pioneering influence on what would become the '90s grunge scene.
"When we were sort of conceptualizing this, we thought, 'Let's make it like he's coming out of the rain forest,'" Ament explains. "Moss, starfish, tide pools. I think that's all there."
Wood, who was known for his flamboyant stage presence, died in 1990 of a drug overdose, just days before Mother Love Bone's debut album, Apple, was scheduled to be released.
Following his death, Ament and Gossard teamed up with fellow Seattle musicians Chris Cornell, Matt Cameron and Mike McCready to form the band Temple of the Dog as a tribute to Wood.
Speaking of Cornell, a statue of the late Soundgarden frontman will be unveiled at the Museum of Pop Culture on August 29.
The Pearl Jam exhibit, officially titled Pearl Jam: Home and Away, also features the towering letters from the Ten cover, with which you'll be able to take a photo. For more info, visit MoPOP.org.
Copyright © 2018, ABC Radio. All rights reserved.