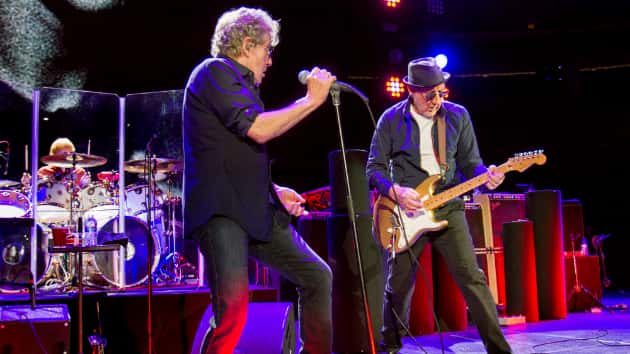 William Snyder/Trinifold
William Snyder/TrinifoldIn a new update on The Who.com, The Who's Pete Townshend discusses the progress the band is making on its upcoming album, and also shares details about a press day that he and Roger Daltrey took part in Wednesday to promote the group's July 6 concert at London's Wembley Stadium.
In a video blog accompanying the post, which was recorded Wednesday, Townshend reports that by the end of the day Monday, at least 10 or 12 backing tracks had been completed that were "sounding really, really great." However, a text bar at the bottom of the clip notes that Pete may be exaggerating about that number of tracks, which might actually be as low as five.
Townshend also notes that Daltrey has "started doing what he calls 'sketch vocals,' and he sent me one for one song that sounds really terrific." Pete adds that Roger will return to the studio on Monday with his producer, Dave Eringa, who also worked on Daltrey's 2018 album, As Long as I Have You.
In addition, he says The Who will be "back in the studio again in April to finish the album off," and also notes that he's very excited about the band's upcoming North American orchestral tour.
In the text portion of the update, Townshend points out that Daltrey "is very positive about the new songs." He also reveals, "I'm about to listen to more work Roger has been doing in the studio on vocals, and I know he will surprise me and delight me as always."
The video also features footage of Townshend visiting Wembley Stadium for their press junket promoting the June 6 show, which will feature special guest Eddie Vedder. The post includes new photos of Pete and Roger at the venue posing with a Who-themed Scomadi scooter.
Copyright © 2019, ABC Radio. All rights reserved.