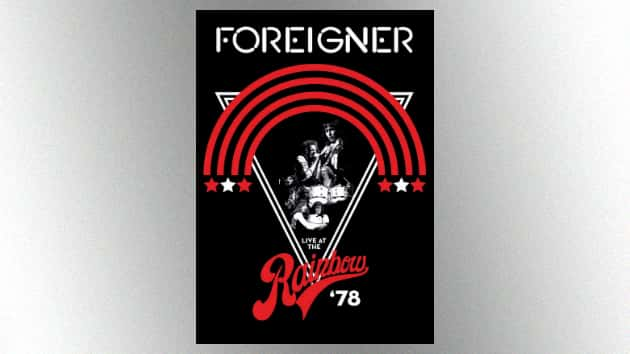 Eagle Vision
Eagle VisionForeigner's new archival concert video Live at The Rainbow '78 hits stores today on DVD, Blu-ray and as a digital video. The release captures the band's original lineup performing its first-ever U.K. show at London's Rainbow Theatre in April 1978, shortly before the release of its sophomore album, Double Vision.
Founding Foreigner guitarist/songwriter Mick Jones tells ABC Radio he feels the video offers "a flashback into the way we were, what we were doing, where our minds were at, what kind of clothes we were wearing."
Jones says he was very happy with the band's performance at the show.
"I know we were probably a little bit anxious that night, because some of the songs sounded a little fast to me, but they worked," he maintains. "I think you could feel the tension and the excitement and the nerves, but I think actually in the end, it ended up working out really well."
Jones notes that it was an exhilarating time for Foreigner, then enjoying the success of their self-titled debut album, which featured hits like "Feels Like the First" and "Cold as Ice."
"Things were going crazy at the time," he recalls. "We…were in the middle of the success of the first album, which was way beyond anybody's wildest dreams. And it was kind of a helter-skelter atmosphere everywhere, a little crazy, but it was very exciting."
He adds, "I think [the performance] really captured the excitement of…that period of time when we were suddenly on top of the world."

Mick says for him, a few of the highlights of the concert were performances of two lesser-known songs from the band's first album: "The Damage Is Done" and "At War with the World."
Here's the Live at The Rainbow track list:
"Long, Long Way from Home"
"I Need You"
"Woman Oh Woman"
"Hot Blooded"
"The Damage Is Done"
"Cold as Ice"
"Starrider"
"Double Vision"
"Feels Like the First Time"
"Fool for You Anyway"
"At War with the World"
"Headknocker"
Copyright © 2019, ABC Radio. All rights reserved.