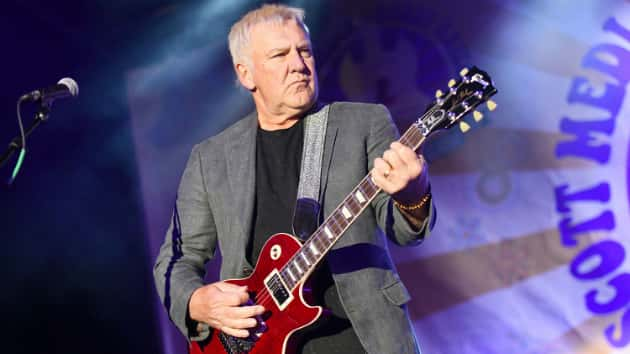 Scott Dudelson/Getty Images
Scott Dudelson/Getty ImagesEver since Rush drummer Neil Peart retired from music after the band's R40 tour ended in 2015, fans have wondered whether guitarist Alex Lifeson and bassist Geddy Lee would continue the group.
Now, in a new interview with Planet Rock, Lifeson answers part of that question, noting, "I don't want to be in a band and tour any more."
Previously, in a piece Lifeson penned for Canadian newspaper The Globe and Mail in January, he'd revealed that Rush "have no plans to tour or record any more. We're basically done."
Asked by Planet Rock if he'd come to terms with Rush's breakup, Alex says, "Yes, I think so," adding, "I don't feel the need to carry on with what I did for almost half a century. I'm fine with it now. And I'm as busy as I would ever want to be."
Reflecting on the end of his famous band, Lifeson tells the magazine, "It wasn't until a year [after the final gig] that I started to feel better about it all. I realized we'd gone out on a high note."
Regarding that final show, held at The Forum in Inglewood, California, the Rock & Roll Hall of Famer says, "I remember looking around the whole arena and trying to take it all in. The lighting. The crowd. The people around me. It was very emotional for us."
He also admits that he would have been more satisfied with the 35-date R40 trek if it had been "a typical-length tour of about 80 dates."
In his Globe and Mail piece, Lifeson reported, "I've…been busier lately than I have been in a while," revealing that's he's been "writing on four or five different little projects," and he's been getting "requests to do guitar work with other people."
Copyright © 2019, ABC Radio. All rights reserved.