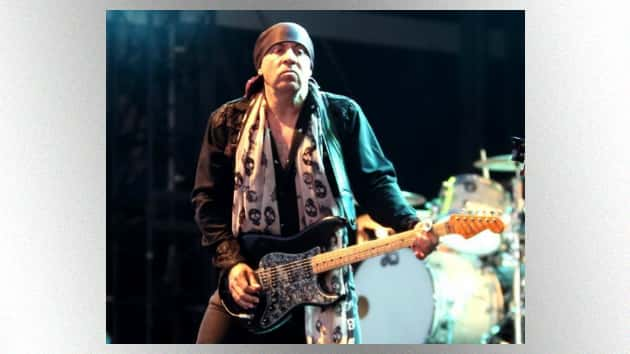 Credit: Jo Lopez
Credit: Jo LopezE Street Band guitarist "Little Steven" Van Zandt will be honored at the first annual Rock and Roll Forever Foundation Gala, in recognition of the veteran musician's work in supporting arts education.
The event will be held on November 23, at the Hard Rock Cafe in New York City, and will be hosted by actor and comedian Drew Carey. The gala will feature musical performances from Southside Johnny and the Asbury Jukes and special surprise guests. Van Zandt will be presented his award by New Jersey Governor Phil Murphy.
Van Zandt established the Rock and Roll Forever Foundation, whose goal is to integrate classes focusing on the history of popular music and culture into grade schools and high schools as a way to keep students engaged in a wide range of subject areas. The gala will benefit the foundation's TeachRock initiative, which offers a free arts-integration curriculum to students from kindergarten through 12th grade.
Alongside Van Zandt, the Rock and Roll Forever Foundation features a range of accomplished board members, including Bruce Springsteen, Bono, Jackson Browne and Martin Scorsese.
In addition to the performances and the award presentation, the gala will feature a cocktail reception, silent and live auctions, and a dinner.
For more information, visit TeachRock.org/2019Gala.
Meanwhile, as previously reported, Van Zandt recently canceled most of the remaining dates of his fall U.S. tour with his group The Disciples of Soul in support of their latest album, Summer of Sorcery. Little Steven and the band only are scheduled to play two more shows this year — on November 2 in Medford, Massachusetts, and November 6 at New York City's Beacon Theatre. Plans are in the works to film and record the New York concert for an upcoming live DVD and album.
Copyright © 2019, ABC Audio. All rights reserved.