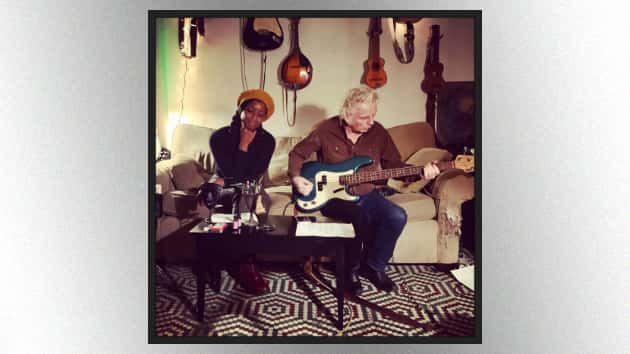 Petaluma Records
Petaluma RecordsFormer Blondie bassist Nigel Harrison has teamed up with soulful Seattle-based singer Renee Holiday on a modern-sounding new cover of the 1988 Patti Smith anthem "People Have the Power," which will be part of an upcoming compilation seeking to encourage people to vote in the 2020 elections.
The album, Stop, Hey What's That Sound: Classic Protest Songs Reimagined, will be released on January 31, 2020, on veteran producer, songwriter and musician Roger McEvoy Greenawalt's Petaluma Records label. Greenawalt has overseeing the project, which features a variety of his musical friends offering up re-worked versions of memorable political-themed tunes, mostly from the late 1960s and early '70s.
Among the tracks are songs by Joni Mitchell, John Fogerty, John Lennon, Neil Young, Stevie Wonder and Curtis Mayfield.
Harrison and Holiday's rendition of "People Have the Power" is available now as a digital single and via streaming services. Proceeds from the track will support Headcount.org, the nonprofit organization that helps facilitate voter registration.
A lyric video for the "People Have the Power" cover featuring Holiday premiered Thursday on AudioFemme.com, and you also can watch the clip now on YouTube.
Holiday, who previously recorded under the stage name Shaprece, says she had a great experience collaborating with Harrison.
"He is so kind, and such an encouraging person to work with!" she tells AudioFemme.com. "He complimented me on my professionalism, ability to learn a song on the spot, and perform it with confidence. I was majorly flattered and appreciative to get that sort of feedback from rock royalty."
Nigel played bass in Blondie from 1978 to 1982, and co-wrote a few of the group's popular tunes, including "One Way or Another," "Union City Blue" and "Eat to the Beat."
Copyright © 2019, ABC Audio. All rights reserved.