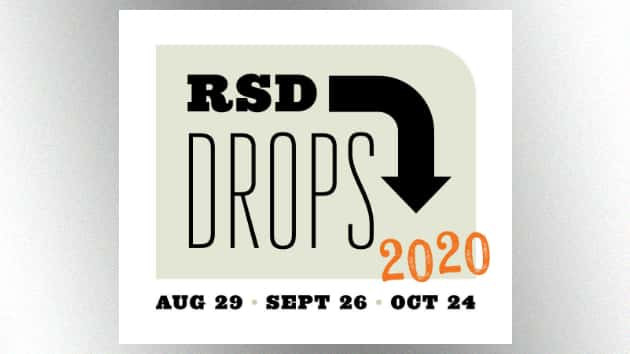 Courtesy of Record Store Day
Courtesy of Record Store DayNew release details have been unveiled regarding Record Store Day 2020.
Organizers announced recently that the event will be changing its format this year due to the COVID-19 pandemic. Instead of a single weekend day, it'll be held over three separate days: August 29, September 26 and October 24.
The specific exclusive, limited-edition releases which will be available on each of the three days — referred to as "Record Store Day Drops" — have now been revealed.
Here's a selection of artists whose Record Store Day offerings will be available at independent music shops, and the day on which their releases will go on sale:
August 29: America, Black Crowes, Tommy Bolin, David Bowie, Canned Heat & John Lee Hooker, Dave Davies, Def Leppard, Dio, Emerson, Lake & Palmer, Brian Eno, Ace Frehley, Jethro Tull, Elton John, Judas Priest, The Kinks, John Lennon, Bob Marley & The Wailers, Nick Mason's Saucerful of Secrets, Paul McCartney, Motorhead, Pink Floyd, Iggy Pop, The Pretenders, Lou Reed & John Cale, Roxy Music, U2 and The Who.
September 26: The Allman Brothers Band, Black Crowes, Canned Heat, The Doors, Fleetwood Mac, Jerry Garcia, Jimi Hendrix, The Ramones, Roger Waters and The Yardbirds.
October 24th: The Allman Brothers Band, Cheap Trick, Alice Cooper, Def Leppard spinoff group Down N Outz, Rory Gallagher, The Grateful Dead, Humble Pie, Judas Priest, Mark Knopfler, Keith Richards, The Rolling Stones, Skid Row, Toto, UFO, The Who, Warren Zevon and Frank Zappa.
For a full list of releases and release dates, visit RecordStoreDay.com.
By Matt Friedlander
Copyright © 2020, ABC Audio. All rights reserved.